---
Hours
Mon - Fri : 8 AM - 6 PM
Sat : 8 AM - 5 PM
Sun : 10:30 AM - 5 PM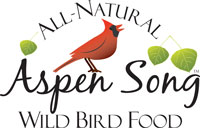 Sunflowers Calendar
Sunflowers now at peak.
Molly and Ruby think peak will be
ending around 21 Aug.
---
Current view 14 Aug


---

Important Information
We have planted corn along the road and ask that people coming to see the field NOT park on the local roads, due to traffic or safety issues.
Please drive into farm entrance and park by the field.
We will have a viewing platform available as usual. Consider bringing a 2 step stool for close up personal photos.
Many sunflowers will be in the 6' to 7' height range.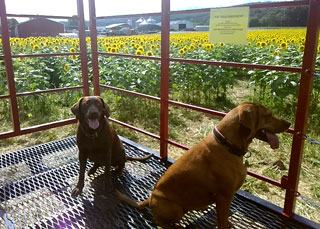 ---
14Aug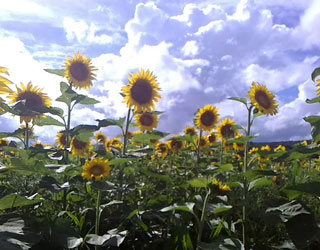 Local sunflower seed available
10, 25 and 50lb bags
---
With our birdseed you can see this.